MYSTAR SPECIAL EDITION "EDDIE" OFFSPRING
LITTER IN KENNEL RIBESSITA
Eddie's puppies were born on 15.07.2008 in Pärnu, Estonia.
There were 3 puppies born- 1 blue male, 1 red and 1 blue female.
Pictures of the puppies are in this ALBUM!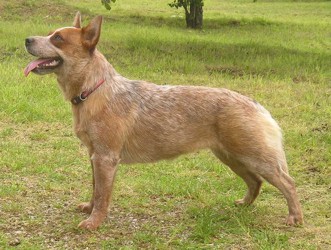 Ribessita The Story Of Maggie May "MAGGIE". Foto: K-K.Kukk.
DAM: Ribessita The Story of Maggie May "Maggie"

Show results: C.I.B. EE&LV  JCH, EE&LT&LV CH

Health: HD B/B ED 0/0

SIRE: Mystar Special Edition "Eddie" import Australia

Show results: C.I.B. EE&RU JCH, EE&LV&LT&BALT, RUS CH, BALTW-07,LTW-08,EEW-08, EEW-09, BALTW-09

Health: PRA-A, eyes checked OK, BAER-normal, HD C/C ED 0/0

More information about EDDIE HERE!
PEDIGREE OF THE LITTER
Mystar Special Edition
Mystar Rhythm and Blues
Yaringah Bad to The Bone
Mystar She's a Lady
Mystar Mystical Lady
Mystar Fuzzy Bear
Aminya Red Lace
Ribessita The Story of Maggie May
Cattlefarm's Sir Frisbee
Reddenblu's Gunpowder
Cattlefarm's True Blue Lass
Inglisilm Devil Red
Reddenblu's Gunpowder
Cattlefarm's Red Ragazzi
RIBESSITA BLUE RAMI EDUARD
Sex: male
Colour: blue
Health:prcd-PRA A or B
Show results: ESTJW09
Dog sport: Obedience level 1
Lives in Tallinn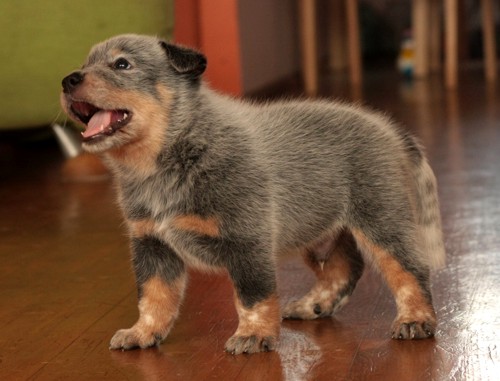 ---
RIBESSITA RED MORE
Sex: female
Colour: red
Health: prcd-PRA A or B, BAER +/+ (normal hearing), HD A/B ED 0/0
Lives in Pärnumaa
---
RIBESSITA BLUE BEGA
Sex: female
Colour: blue
Health:prcd-PRA A or B
Show results: RUS JCH, RUS CH, RKF CH
Export Russia
Bega with her litter in Ufaa, Russia. Fotos: Galina Ginter